Why Quartz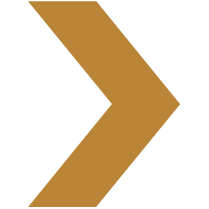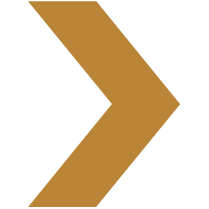 Nothing matches the selected filter.
Care & Maintenance
We've got all you need to know taking care of your countertop
If you're looking to learn all you can about taking care of your Customcraft Countertop or want to learn more about what it takes to install one then check out our literature below or browse our FAQ's.
There is a lot that goes in to getting new countertops, here are some common Frequently Asked Questions about Quartz countertops. For additional questions on measuring, designing, or ordering countertops, check out our full FAQ page for all the details.
Can quartz countertops be made out of square?
Yes!
Is quartz superior to granite?
Quartz is one of the most stain, heat and scratch resistant materials on the market today. It offers a non-porous, food safe surface that will appear relatively seamless. Each quartz countertop features a Lifetime limited warranty. When compared to granite, quartz meets or exceeds every standard.
Is quartz a man-made material?
Yes, Quartz is made with approximately 93% natural quartz, making it one of the most durable materials used on countertops. Only diamonds, sapphires and topaz are harder than quartz. This makes quartz a strong and highly durable option.
Are there variations in quartz colors?
Quartz is made from pure, natrual quartz. Variations in quartz color, shape, shade, pattern, and size are unique traits of quartz. Some quartz colors may or may not be more consistent than granite, however color variance is an inherent trait expected in quartz. In addition, small white blotches or random distribution of particles are an inherent part of the overall design and composition and are not considered to be defects under the size of a quarter.
What quartz thicknesses are available?
Midwest Manufacturing® and Menards® offer 2cm (.79") or 3cm (1.18") material with an allowable variance of +/-2mm (.07").
Do I need to seal quartz?
No, you never need to seal, condition, or wax quartz.
Does quartz have a warranty?
Yes, our Riverstone quartz countertops come with a Lifetime Limited Warranty.
Will the faucet holes be cut in my quartz countertop?
Yes, due to the difficulty of cutting faucet holes on the jobsite, MM Countertops can cut them for you. Faucet holes are cut at 1-3/8" to accommodate your faucet, soap dispenser, dishwasher vent, or sprayer. Check your faucet package for the correct number of holes.
How do I care for my quartz countertop?
Regular cleaning can be done using a damp cloth and mild household detergent. For best results, clean spills as soon as possible. For tougher spots, use a mild non-abrasive cleaner(s). DO NOT use bleach or harsh chemicals such as oven cleaners, drain cleaners, paint removers, acid, etc.
Is quartz resistant to heat?
While quartz withstands heat better than most materials on the market, it can be damaged by extreme temperature changes, whether sudden or prolonged. Always use a trivet or hot pad when placing hot items on your countertop surface. These items include, but are not limited to, pots, pans, and crock-pots.
Can I cut on a quartz countertop?
No, avoid cutting directly on countertops, always use a cutting board.
Featured Videos:
Quartz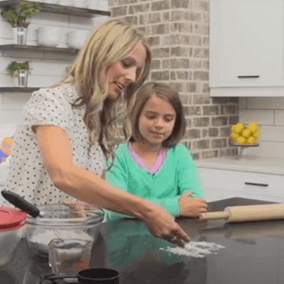 Quartz Vanity Top Installation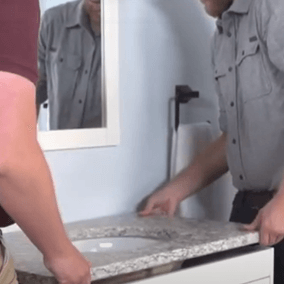 Quartz Backsplash Installation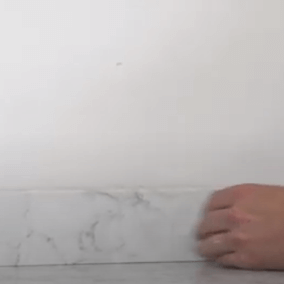 Dishwasher Clip Installation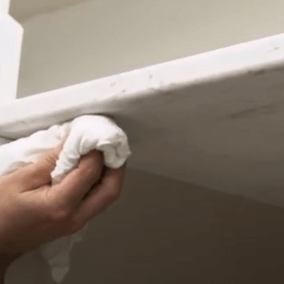 Quartz Installation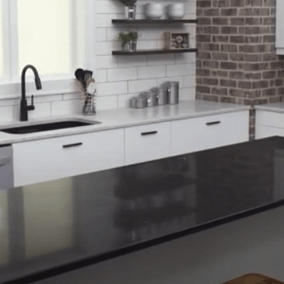 Quartz Undermount Sink Installation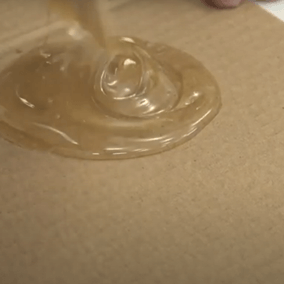 Quartz Inspection and Prep