Nothing matches the selected filter.
Care & Maintenance
We've got all you need to know taking care of your countertop
Caring for your countertop is easy! Just wipe down with a damp, soapy cloth to keep it clean. Always protect the surface from sharp utensils and hot pans by using a cutting board and hot pad or trivet. For more detailed information, view the guides below.
FAQ'S
There is a lot that goes in to getting new countertops, here are some common Frequently Asked Questions about Laminate countertops. For additional questions on measuring, designing, or ordering countertops, check out our full FAQ page for all the details.
How do I measure my space?
You can either measure your cabinets or existing countertop. Always measure the outside dimensions from one back corner to the other back corner.
Do I need to call out where my appliances are placed when measuring?
Yes, please note all sink and appliance locations as well as any exposed ends. Note brand and model number when cooktops or cutouts are needed within the design to ensure a proper cut.
Are samples a true representation of the color selected?
Printed representations of the colors may differ from the actual samples. It is always best to view a sample in your space and light for proper representation of the color. Take home boards are available for check out in all Menards® stores, in addition, samples can be ordered of all materials on www.menards.com.
Can sink placement be adjusted forward and backward?
Yes, however there are limitations based on your layout. A Menards® Team Member can help you plan accordingly.
Can countertops be made out of square?
Yes!
What is a template?
A template is a full size rendering of your countertop that allows you to verify all dimensions, cutouts, end treatments, overhangs, etc. before a countertop is produced.
Do I get my sink cut out of materials?
Any sink, appliance or cuts with under 24" remaining material are considered scrap and will not ship with the order.
What are the benefits of templating?
Templates are available for all materials and are shipped directly to your door. They help you avoid costly mistakes by allowing you to verify all aspects of your design and make any changes needed prior to your countertop being produced.
Where do I make changes to my template?
Any changes to your template can be made at your local Menards® store. Please note, that some updates may require the store to submit the updates as a custom quote.
What is Solid Surface made of?
Solid surface is a made of 100% acrylic material.
Is Solid Surface repairable?
Yes, Solid Surface is the only renewable countertop surface on the market today.
Is Solid Surface food safe?
Yes, due to its non-porous nature, Solid Surface products are safe for food preparation.
What edge profiles are available?
Roundover, Double Roundover and Ogee edge profiles are available for no additional charge.
What are the end finishes available and where should they be used?
End finishes offered include profiled, non-profiled and unfinished. Profiled ends allow the same edge profile as the front edge of the top, to wrap around to an exposed end. This offers a finished look on any exposed end. Non-profiled is a straight cut end that is polished. This is ideal on ends that do not need an edge profile, like next to a stove or refrigerator, or against a wall.
What is a factory installed integrated sink?
Factory integrated sinks offer a clean transition from countertop to sink with no lip for water or dirt build up. These sinks are installed at the factory for a quicker installation of your top. An optional drainboard can be added to any Solid Surface countertop with a factory installed integrated sink for an additional charge.
How do I clean Solid Surface?
Soap, water and a soft dish cloth is generally all that is needed. Hard water marks can generally be removed using ordinary vinegar. Bleach and harsh abrasive cleaners should NOT be used.
How can I buff out scratches that may occur?
Scratches are more noticeable in dark colors, but Solid Surface is completely renewable and repairable using the Solid Surface Refinishing Kit found at your local Menards store.
Is Solid Surface resistant to heat?
While Solid Surface withstands heat better than most materials on the market, it can be damaged by extreme temperature changes, whether sudden or prolonged. Always use a trivet with rubber feet when placing hot items on your countertop surface. These items include, but are not limited to, pots, pans, and crock-pots.
Can I cut on a Solid Surface countertop?
No, avoid cutting directly on countertops, always use a cutting board.
What is the height of a Solid Surface countertop?
1-1/4" Thick.
Featured Videos:
Solid Surface Install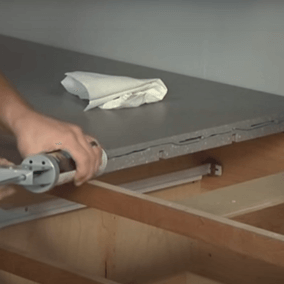 Undermount Sink Installation